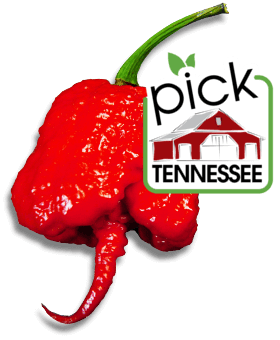 Mad Mike's Reapercussion® Seasoning
is privately owned and operated by Mad Mike himself located in Rock Isand, TN. With half his genes being Italian, and a mix of Greek; Mad Mike loves the taste of spicy, freshly made foods. Being a pepper lover since he can remember, he personally tries the hottest pepper in the world every time a new one breaks the record. After eating Ed Currie's Carolina Reaper pepper – one of the "World's Hottest Peppers" – Mad Mike knew it would make an amazing seasoning.
Being the entrepreneur he is, Mad Mike decided to take some of the best blend of herbs and spices, add several types of peppers and embellish it with 100% all natural Carolina Reaper Peppers.
Unlike most companies on the market that have someone else manufacture or co-pack their products; Mad Mike creates every bottle of seasoning by hand in his very own TDA and FDA registered facility. This allows full quality control of his product and guarantees his recipe to be perfect every time. Each ingredient is hand processed throughout his whole facility. His creation Mad Mike's Reapercussion® Seasoning is on a level by itself; there is no other seasoning on the market that tastes as unique as his concoction. But don't take our word for it, grab a glass bottle of his hand crafted, always fresh, no preservatives, and 100% all natural Mad Mike's Reapercussion® Seasoning and start shaking it on everything today!

A proud member of the Pick Tennessee Products.